Single Tooth Implants – Dallas, GA
How You Can Replace Missing Teeth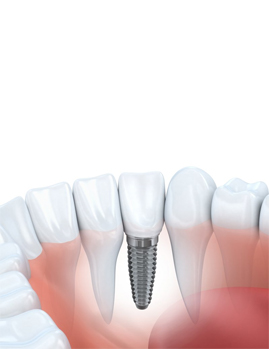 At Distinctive Dentistry, we want all of our patients to have the best oral health possible. If you're missing teeth, even if it's only a single tooth that isn't even visible in your smile, it can have major implications for your long-term oral health. That's why we always recommend patients to get their tooth replaced. Fortunately, there are multiple options for you to consider, some being more comprehensive than others. To learn more about single tooth dental implant replacement, don't hesitate to call our office and schedule an appointment!
Your Options for Tooth Replacement
There are generally two methods for replacing individual teeth. These methods include fixed bridges and dental implants. Fixed bridges have been the standard for many years now, largely because they have been the only long-term solution prior to dental implants. A bridge is made up of multiple crowns that are fused together. The crowns on either end of the bridge are hollowed out so they can fit on top of neighboring healthy teeth. The crown in between is called a "pontic" and is meant to fill the gap in your smile.
Dental implants do not require neighboring teeth to act as anchors, mainly because they utilize a titanium post to act as the anchor. This post also acts as the replacement tooth root, which is not provided if you choose dental bridges to replace teeth. Once the implant is placed inside of the jawbone and gum tissue has healed around it, we can restore it with a natural-looking dental crown.
How Do Single Tooth Implants Work?
Single dental implants are designed to replace the entire tooth structure, not just the visible crown portion that makes up your smile. Once placed, the implant requires several months of healing before it can be safely restored. During this period, we'll be able to create a custom-made restoration, in this case a single implant-retained crown, and attach it to your crown via an abutment. Abutments act as tiny connectors that ensure a stable foundation for your new crown.
In some cases, preparatory treatments are needed in order to ensure proper integration with your oral structures. These treatments include bone grafts, periodontal therapy, or tooth extractions.
The Benefits of Choosing Single Tooth Implants
There are many reasons to consider dental implants for your tooth replacement. Just a few of these reasons include:
Truly Self-Supporting – Dental bridges require the removal of existing tooth enamel in order for them to have a stable foundation in the long-term. Dental implants help you retain as much natural tooth as possible.
Long-Lasting – Dental bridges will require replacement after a certain period of time, typically about 10 years. In contrast, dental implants last about 25 years to a lifetime when properly maintained.
Aesthetically-Pleasing – Because you're replacing the root, you're replicating your missing tooth more effectively than any other form of tooth replacement.
Easy Oral Care – Brushing and flossing feels almost identical when you have dental implants. Bridges are notorious for being difficult to clean.