All-Ceramic Restorations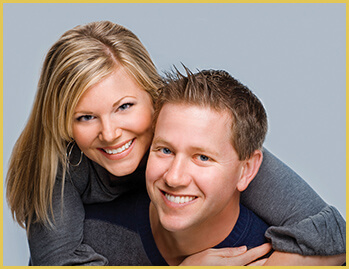 Actual Patient
Do you need restorative or cosmetic help for your smile? Depending on your needs, there's a good chance we'll use an all-ceramic restoration, regardless of whether you need a crown, an inlay or onlay, a bridge, or another service. All-ceramic restorations come with a number of benefits and provide amazing results.
First and foremost, all-ceramic restorations reflect light in a way similar to the way natural enamel reflects light. This is what makes all-ceramic restorations look so natural. Instead of standing out, your restoration will blend in with your smile, giving you seamless results that you'll love. All-ceramic restorations are also durable. When cared for properly, with routine brushing and flossing, you can look forward to your restoration lasting for years.
What Kind of Restoration Do I Need?
Dr. Shirley, Dr. Cannon, and Dr. Bickford can help you understand your needs during a special consultation. After completing a full oral health exam, they'll talk to you about the results and recommend a specific treatment to help you renew your health and well-being. If you have questions during your appointment, don't hesitate to let us know.
Do you need help restoring your smile with an all-ceramic restoration? With this special service, we can improve both the health and beauty of your smile. Call us today to reserve your consultation appointment. We've been offering cosmetic and restorative care to patients from Dallas, Hiram, Douglasville, Rockmart, Powder Springs, Acworth, Villa Rica, Temple, Marietta, and Kennesaw for more than thirty years.