Periodontal Therapy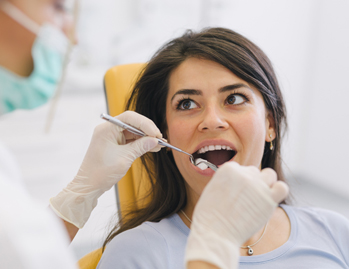 Periodontal (gum) disease is a serious oral health issue affecting millions of US adults. In fact, some research indicates that more than 75% of patients over the age of 35 have some form of gum disease, which is the leading cause of tooth loss for patients in this demographic. If you are concerned you may be suffering from gum disease, the Distinctive Dentistry team can help. Our Dallas dentists and team offer a wide range of preventive and restorative dentistry services to protect your smile from the potential damage caused by gum disease. Contact our Dallas dental team to find out more or schedule a dental checkup today.
What is Gum Disease?
Gum disease is a chronic oral health issue that occurs when plaque and tartar buildup at the gum line irritates or damages soft tissue. Left untreated, the soft tissue and alveolar bone structure that supports teeth are broken down by this disease. While many people consider gum disease to be little more than a minor irritation, it can be detrimental to oral and overall health unless properly treated. There are two stages of gum disease. Gingivitis is the mild, early stage of gum disease. Periodontitis is the more advanced, potentially damaging stage.
Symptoms of Periodontal Disease
During regular dental checkups, your dentist should complete periodontal charting. By regularly measuring the depth in the pockets between the tooth and gum tissue, your dentist will notice changes right away that may indicate a need for periodontal therapy. Other warning signs of gum disease include:
Bleeding gums especially while brushing, flossing, or eating
Irritated, inflamed, or discolored gum tissue
Shifting teeth or a bite that doesn't seem to fit together
Bad breath that doesn't improve after cleaning
Teeth that appear longer
Treatments for Gum Disease
We offer a wide range of periodontal therapies to renew oral health. For patients in the early stages of gum disease, gingivitis, more frequent professional teeth cleanings coupled with more intense at-home care may be adequate to fully renew oral health. For more advanced gum disease, we may recommend more frequent cleanings, boosted at-home hygiene, and any combination of the following procedures:
Scaling – the systematic removal of plaque, tartar, and damaged oral structures
Root planing – the smoothing of tooth roots to prevent future plaque and tartar buildup and reduce risk for the spread or worsening of gum disease
Antibiotics – either oral, topical, or both forms of antibiotic can be used to reduce the amount of plaque producing oral bacteria
Advanced therapies – other more advanced treatments including gum tissue grafts may be recommended
The Mouth/Body Connection
In addition to being detrimental to oral health, patients with gum disease are also at an increased risk for other chronic and systemic illnesses including:
Diabetes
Stroke
High blood pressure
Heart Disease
Pre-term and low weight births