Dental Crowns – Dallas, GA
Repair Your Broken, Weakened, or Cracked Teeth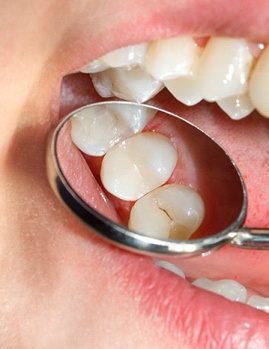 Do you have a cracked or broken tooth? Do you have a tooth that's been weakened significantly by decay or large fillings. Instead of extracting the tooth, we can help save and strengthen it with a custom-made dental crown. This classic restoration can repair your broken, weakened, or cracked teeth in just two appointments with seamlessly lifelike results.
At Distinctive Dentistry, we've spent more than 30 years providing beautiful, custom-made dental crowns in Dallas to our patients. We proudly offer restorative dental care to the families of Dallas and the surrounding communities, including Hiram, Douglasville, Rockmart, Powder Springs, Acworth, Villa Rica, Temple, Marietta, and Kennesaw. Call us today to schedule your appointment!
What Is a Dental Crown?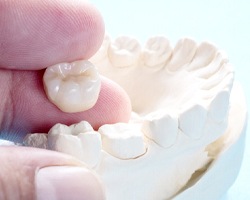 Dental crowns (sometimes known as caps) are placed over a tooth, encapsulating and holding together the entire portion of a tooth above the gumline. This allows it to restore the tooth's functionality and appearance, often following a restorative procedure like a root canal. We may also recommend a crown in cases where a tooth has become so decayed that large portions of it must be removed. In still other cases, crowns are used to attach bridges, cover implants, prevent a cracked tooth from becoming worse, or to replace an existing filling that is in jeopardy of becoming loose or dislocated. Crowns also have an aesthetic purpose. They can be applied when a discolored or stained tooth needs to be restored to its natural appearance.
The Process of Getting a Dental Crown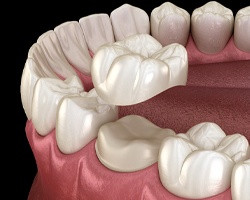 Repairing a single tooth with a dental crown will typically take two appointments. First, we'll prepare the selected tooth by cleaning it and removing enough enamel to make room for the crown. We'll take impressions of the area and then cover the tooth with a temporary crown. This will keep the tooth safe and comfortable until your next appointment.
The impressions are sent to a nearby dental lab to create your permanent dental crown. Once we receive it, we'll call you back to our office to have it bonded into place. This should only take a little while, and then we'll check that you're happy with your results before sending you on your way.
Benefits of Getting a Dental Crown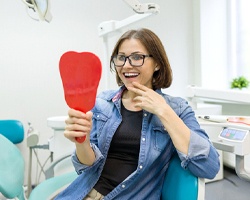 Getting a dental crown offers many benefits, such as:
Protect compromised teeth from future infection or extraction
Restored ability to eat and talk comfortably
Improve the physical appearance of your tooth
High-quality materials ensure durable and lifelike results
Enjoy results that can last 15 years or more
How To Care for a Dental Crown
You take care of dental crowns the same way you take care of your natural teeth—brush twice a day, floss once a day, and visit our Dallas office for regular dental checkups every six months. As long as you take care of your teeth, your crown should last many years. If your dental crown ever feels loose or uncomfortable, don't hesitate to give us a call right away!
Understanding the Cost of Dental Crowns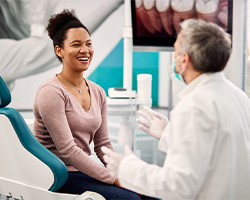 At your last routine checkup, did your dentist say that you need a dental crown to repair your smile? If you've never gotten one before, you may wonder how much it'll cost. We understand you probably want to know how much you can expect to pay before moving forward with the process. Since dental crowns are considered a restorative treatment, your dental insurance will likely cover a percentage of your care. That means you don't have to worry about breaking the bank to restore your oral health! For more information about the cost of dental crowns in Dallas, continue reading or give us a call today.
Factors that Affect the Cost of Dental Crowns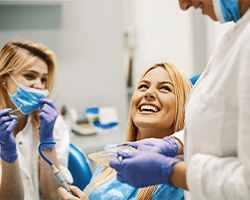 When calculating the cost of dental crowns, you should know that there are several factors that can affect the overall price. Some of those include:
Severity of dental damage
Whether or not additional treatments are necessary (i.e., needing a root canal before a crown or having a crown placed over a dental implant)
Type of material used to make a dental crown (i.e., amalgam, gold, porcelain)
How a dental crown is made (i.e., traditional method vs. same-day technology like CEREC)
Patients on a budget may be tempted to opt for the cheaper option. However, that's not necessarily ideal. Keep in mind that you almost always get what you pay for, and quality is incredibly important for something that will go in your mouth. Not only do you want your new restoration to look good, but feel good and last years to come.
Does Dental Insurance Cover Dental Crowns?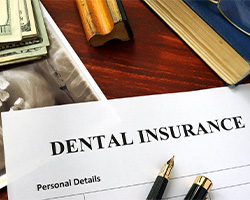 Absolutely! Since dental crowns are considered a major procedure, they typically have around 50% of their cost covered by dental insurance. Of course, that's only in cases where they're deemed medically necessary. Because every policy is unique, you should confirm the details of your coverage with your provider before committing to anything. If you need help with that process, our team is more than happy to assist you!
Other Options for Making Dental Crowns Affordable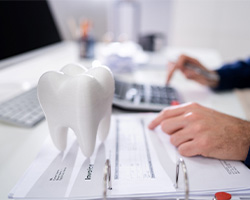 Don't have dental insurance? No problem! At Distinctive Dentistry, we offer additional financing options to help you cover the cost of dental crowns in Dallas. Our solutions include:
CareCredit Financing: With this option, you can split up the total cost of your care into smaller monthly installments. Best of all, these payment plans come with little-to-no interest attached, helping you save even more money.
In-House Membership Plan: By signing up for our exclusive membership plan, you can get the preventive care you need at no cost to you. Plus, you'll get to enjoy sizeable discounts on services like fillings, dental crowns, implants, and even cosmetic dentistry!
Dental Crowns FAQs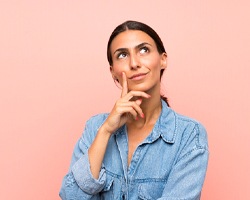 Do you need to replace a missing tooth? One of the best ways to do this is with dental crowns. These ceramic restorations can renew decayed or damaged pearly whites, improving the function and appearance of your oral health simultaneously. While you may know the benefits you can enjoy from this treatment, it's natural to want to know more before committing to any procedures. That's why our team at Distinctive Dentistry is happy to share and respond to some of the most commonly asked questions we get about dental crowns in Dallas. Read on or give us a call today to learn more!
Do Dental Crowns Get Cavities?
Dental crowns are not made of the same organic material as your natural teeth, so they can't develop cavities. However, this doesn't mean the underlying tooth is immune to decay. Without proper oral hygiene, it can still be at risk of bacteria and infection. For this reason, you'll want to practice solid teeth cleaning routine every day, specifically targeting the gum line where plaque and germs accumulate the most. Brush twice a day, floss daily, and rinse with ADA-approved mouthwash frequently to keep your teeth cavity-free and your dental crown in mint condition.
How Long Do Dental Crowns Last?
There are a variety of factors that can impact the longevity of dental crowns, such as the material it's constructed from, your oral hygiene, and even your diet. That said, the majority of patients can expect their restorations to last anywhere from 5 to 15 years with proper care. Your new tooth will be made out of ceramic dental material, providing a durable and long-lasting replacement. It's worth mentioning that crowns fitted on front teeth can last longer than on molars, as they won't have to sustain excessive pressure from chewing. Be sure to practice solid oral hygiene and visit our team every six months if you want to make the most of your dental restorations!
Is It a Dental Emergency If Your Crown Falls Off?
While a crown falling out isn't always an urgent situation, you'll still need to contact us as soon as possible. The last thing you'd want is to leave your underlying tooth exposed to bacteria and further damage. Additionally, if it has any sharp edges, you could end up at risk of harming your soft oral tissues. To protect the rest of your mouth, it's best to schedule an appointment with us within a few days of your restoration falling out. Until then, try using orthodontic dental wax or even a piece of sugarless gum to cover the pointy edges. Bring your dental crown with you to your visit, as we may be able to replace it on your tooth.
Are Dental Crowns Safe for MRI?
This will depend on the kind of material your dental crown is made of. While metal or porcelain-fused-to-metal restorations might affect a magnetic resonance imaging (MRI) process, all-porcelain or ceramic ones will not. Metal dental crowns are at a higher risk of impacting an MRI, as the material can distort the radio waves or magnetic field in the machine, resulting in warped images. This can negatively affect your doctor from providing a precise diagnosis. Make sure to disclose that you have a metal crown (if you do) and consider switching to a metal-free restoration to avoid any complications.