Tooth-Colored Fillings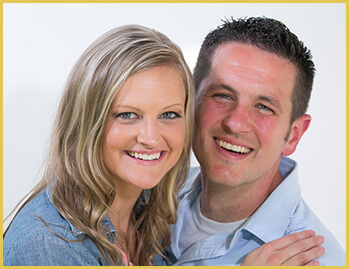 Actual Patient
At every appointment, Dr. Shirley, Dr. Cannon, and Dr. Bickford will complete an oral exam to look for signs of the most common oral health problems, among them tooth decay. As with any problem, what starts small can develop into a serious problem. If we find any signs of decay during your visit, we'll recommend treatment with a filling—and in most cases, a tooth-colored filling.
For a long time, amalgam fillings were the best solution for treating decay. And for some situations, they're still a very good choice. But today, tooth-colored fillings are the standard for care. Tooth-colored fillings are more supportive of the tooth's natural structure, making them a more conservative choice. They're also more discreet. Instead of standing out the way amalgam fillings do, they blend in with your smile, for more natural results.
Embarrassed of Your Old Fillings? Talk to Us about Replacing Them
If you have old fillings that are keeping you from smiling with confidence, let our Dallas, GA, dental team talk to you about replacing them. Just as we can treat new cavities with tooth-colored fillings, we can also remove old fillings and replace them with this more durable and discreet alternative.
Call Distinctive Dentistry to schedule your next visit with Dr. Shirley, Dr. Cannon or Dr. Bickford. For more than thirty years we've been providing help to patients who need help treating cavities. We offer fillings for patients from Dallas, Hiram, Douglasville, Rockmart, Powder Springs, Acworth, Villa Rica, Temple, Marietta, Kennesaw, and all surrounding locations.