Dental Implants in Dallas, GA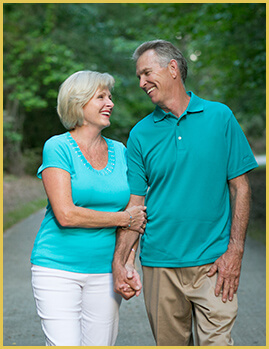 Actual Patient
Do you have an incomplete smile? You're not alone. Tooth loss occurs for a variety of reasons. Maybe you've had an abscessed tooth removed or you've lost a tooth to advanced gum disease. Or maybe you experienced an injury that resulted in the loss of one or more teeth. Whatever your situation, our compassionate team at Distinctive Dentistry has a solution. With dental implants, we can help our Dallas-area patients restore what they've lost and enjoy good health and well-being again.
What Is a Dental Implant?
A dental implant combines a custom-made crown with a small titanium post. The titanium post is surgically placed in the jaw to mimic a tooth root. Why is this important? Because our tooth roots have two very important jobs. First, they provide our teeth with a stable foundation, and second, they promote bone growth in the jaw. When you lose one or more roots, part of your jaw loses its purpose and will deteriorate with time. But because implants are made from biocompatible titanium, they will act like prosthetic roots. In addition to providing your new crown or denture with added stability, they'll also promote bone growth in the jaw, ensuring that it stays strong and healthy as the years go by.
What to Expect
Implants can be used for a range of circumstances. Whether you need to replace just a single tooth, a few teeth, or a full row of teeth, dental implants can help. But regardless of your situation, a full implant procedure is completed in two phases. In the first phase, a surgeon will place one or more implant posts in your jaw. The number of posts you receive will depend on the number of teeth you need to replace. Then, after a healing period in which your jawbone and your implant(s) fuse together, you'll come to Distinctive Dentistry for the second phase of care. During this phase, we'll attach your custom-made restoration and complete your treatment.
Are Dental Implants Right for You?
Unfortunately, not every patient is a good candidate for care with dental implants. If you'd like to know if implants are right for you, we can help you answer that question during a special consultation at our Dallas, GA, dental office. Implants can only be placed in jaws that are dense enough to support them. Likewise, good oral health is required for anyone considering dental implants. If it turns out that you're not a candidate for care with dental implants, Dr. Shirley, Dr. Cannon, and Dr. Bickford will be happy to discuss alternative solutions with you.
At Distinctive Dentistry, we've been providing comprehensive restorative care with dental implants for years. Call us today to reserve your implant consultation. We proudly offer restorative care to patients from Dallas, Hiram, Douglasville, Rockmart, Powder Springs, Acworth, Villa Rica, Temple, Marietta, Kennesaw, and beyond.