Membership Saving Plan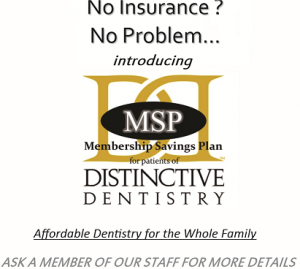 At Distinctive Dentistry, we are committed to providing patients high-quality care with our patients the center of our focus. While the American Dental Association recommends everyone over the age of two visits the dentist twice a year, we know many avoid seeing their dentist in Dallas, GA due to the cost of care. Now, you no longer have to worry about dental insurance to receive the care you need. By becoming a member of our dental office, you will immediately start saving off your dental services. With our Membership Savings Plan, you will benefit from no waiting periods so you will receive the affordable care you need right away.
Benefit from Affordable Dental Care
As a family dentist in Hiram, GA, we know the cost of dental care is a large concern, which keeps many people from visiting the dentist. In fact, according to the Centers for Disease Control and Prevention, only 83% of children and 62% of adults have visited the dentist in the past year. Among the leading reason for not seeing the dentist has to due to the financial burden.
We help ease the burden with our Membership Savings Plan. By joining our savings plan, your entire family will benefit from affordable dentistry. Our exclusive savings program is available to only our patients. You will enjoy no annual fees, no deductibles, and fixed yearly maximums so unforeseen costs will be kept to a minimum.
Our plan is easy to understand while providing comprehensive care. You will pay your membership fees at the time of enrollment. After receiving dental care, your remaining out-of-pocket payments will be due at the time of service. We accept a wide range of payment options, including cash and credit cards, to make paying for treatment easy.
Call our office today for more details.