Dental Bridges – Dallas, GA
Restoring Your Complete, Confident Smile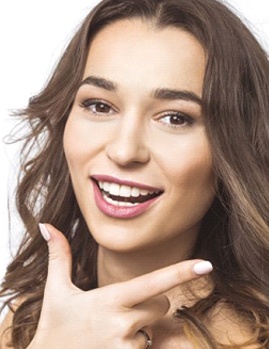 Do you have missing teeth due to an injury, an extraction procedure, gum disease, or other dental traumas? Whether you have one missing tooth or several in a row, you may benefit from a custom-made restoration known as a dental bridge in Dallas. When it comes to restoring your complete, confident smile, a dental bridge can do so quickly and easily! At Distinctive Dentistry, we want to give each and every patient a reason to smile, so give us a call today to schedule your consultation.
What Is a Dental Bridge?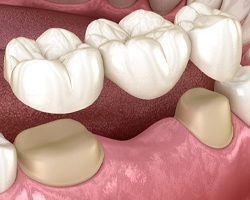 A dental bridge is a natural-looking restoration that can replace one, two, or three consecutive missing teeth. Each one is carefully made to fit a patient's unique smile, which means dental bridges are barely noticeable once placed! They can restore the natural contour of the teeth as well as the proper relationship between a patient's upper and lower teeth.
Bridges are composed of a replacement tooth that physically bridges the gap in a patient's smile, and two crowns that are affixed to the existing teeth on either side of the gap. Many bridges are made of porcelain, but they can also be made of gold or a combination of materials.
Types of Dental Bridges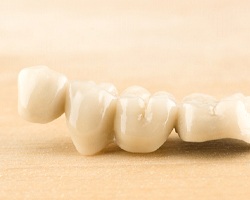 When you visit us for a consultation, we'll evaluate your oral health and take a close look at your smile. From there, we'll likely recommend one of two different types of dental bridges:
Traditional Dental Bridges
A traditional dental bridge consists of one, two, or three lifelike replacement teeth and a dental crown on each end. It will be designed to fit perfectly into the empty space, and the dental crowns on either end will be fitted over the remaining teeth on each side of the gap. They'll support the replacement teeth between them, effectively bridging the gap in your smile!
Implant Bridges
Alternatively, an implant bridge can be used to fill the empty space in your smile. These types of bridges look just like a traditional dental bridge. However, instead of altering your remaining teeth to place the dental crowns, a pair of dental implants are used to support the restoration. These small titanium posts are embedded into your jawbone to replace the roots of your teeth and provide truly unmatched results! We'll help you determine if you're a good candidate for an implant bridge during your consultation.
The Benefits of Getting a Dental Bridge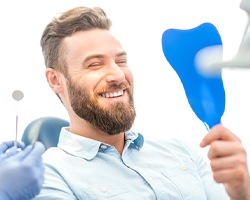 A dental bridge offers numerous benefits, such as:
Preventing dental drift and bite problems in the future
Improves oral health
Seamlessly restores your smile's appearance
Easy to take care of
Long-lasting results you can count on
Dental Bridges FAQs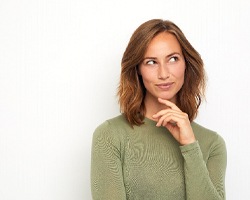 Missing one or several pearly whites can make it difficult to complete daily tasks, such as eating comfortably, speaking clearly, and smiling confidently. If you're looking for a tooth replacement option, then dental bridges may be the ideal solution for you. Though you may be aware of the benefits that come with these restorations, it's normal to want to know as much as possible about the treatment before starting any work. Our team at Distinctive Dentistry is more than happy to collect and respond to our most frequently asked questions about dental bridges in Dallas. Read along or reach out to us today if you wish to learn more!
Is Getting a Dental Bridge Painful?
Our team will make sure to completely numb your mouth before preparing your teeth to support your dental bridge. While this means you won't feel any pain throughout your procedure, you might experience mild discomfort in your underlying pearly whites after we've placed your restorations. This can easily be managed by taking over-the-counter or prescribed pain relievers. However, if any sensations or discomfort worsen over time, then you should give us a call right away. Keep in mind that dental bridges can prevent your teeth from shifting out of place, preventing discomfort in the long run.
Do Dental Bridges Look Natural?
Your dental bridge will be constructed out of ceramic material, which can be color-matched to seamlessly blend with the rest of your smile. Your restorations will also be able to reflect light similar to your natural enamel, providing a more lifelike solution compared to metal dental bridges. Not only will your new teeth appear real, but you also won't have to worry about them falling out like other dental restorations, such as dentures. Our team will construct your bridge by using the impressions we took of your teeth, so you should expect results that will fit perfectly with the rest of your smile!
How Many Teeth Can a Dental Bridge Replace?
While the exact number will depend on the patient's situation, a dental bridge can usually restore between one and four consecutively missing pearly whites. That said, we'll tend to use these restorations to replace one or two teeth. The further your bridge extends, the less stable you can expect it to be. The last thing you'd want is for your dental bridge to place your supporting teeth at risk in the long term. If you have three or more missing teeth, then you might consider getting implants instead, as these will anchor your restorations to your jawbone and provide a much more stable foundation for your smile.
Can You Take a Dental Bridge Out?
Dental bridges are not designed for you to remove them. We'll do everything we can to ensure that they remain in your mouth for many years after their placement. The only one who should be able to take them out for you is a qualified dentist. Unfortunately, some healthcare professionals have come to refer to partial dentures as "removable bridges." These two restorations are not to be confused. While partials can replace multiple missing teeth similar to dental bridges, the main difference is that they can be removed by the patient at any time.