Complete Smiles with Full & Partial Dentures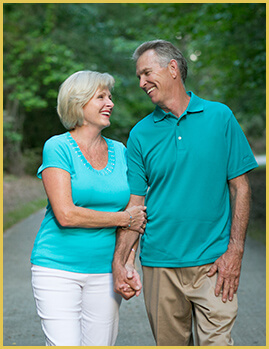 Actual Patient
At Distinctive Dentistry, we know that if you have missing teeth, it's probably difficult for you to smile with confidence. People lose their teeth for many reasons—advanced gum disease, severe cavities, facial trauma, dental infections, or extractions. No matter what the reason may be for your missing teeth, you don't have to be embarrassed anymore. With a denture or partial, we can give you a reason to smile again.
Partial Dentures
If you're only missing a few teeth, we can create a customized partial denture to fix the gaps in your smile. Some partials are permanently placed, but others can be removed. Our dentists will discuss your options with you to help you receive the most personalized care possible.
Full Dentures
If you're missing all of your teeth, you might have issues eating and speaking. To help you, we can create customized dentures that will comfortably fit in your mouth and replace a full upper or lower arch. If you already have dentures, but you're experiencing problems, such as slippage or difficulty speaking, we can either reline your dentures or create a whole new set for you. Our skilled practitioners also offer added security with implant supported dentures. By strategically placing several titanium posts below the gum line, we can attach permanent or removable dentures for increased comfort and security.
At Distinctive Dentistry, we've been providing custom-made removable dentures to our patients in the Dallas area for more than thirty years. If you need restorative help, don't hesitate to give us call. We proudly offer our services to the communities of Dallas, Hiram, Douglasville, Rockmart, Powder Springs, Acworth, Villa Rica, Temple, Marietta, Kennesaw, and beyond.