Full-Mouth Reconstruction – Dallas, GA
Giving You a New Reason to Smile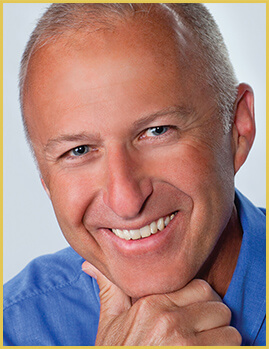 Actual Patient
We want your smile to be distinctively gorgeous! So even if you think there is no way you'll ever achieve a confident appearance, you can have hope with a full-mouth reconstruction in Dallas by our qualified team at Distinctive Dentistry! With our full-mouth reconstruction services, we can fix an array of dental problems. In fact, if several of your teeth are injured, misshapen, darkened, or missing, a full-mouth reconstruction will give you a whole new reason to smile! Contact us today to schedule a consultation and let us help you take the next step toward a healthy, beautiful smile.
Is Full-Mouth Reconstruction Right for Me?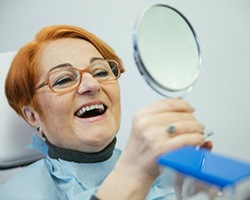 Typically, if you have various cosmetic imperfections as well as structural damage or decay, you will be a qualified candidate for full-mouth reconstruction.
A full-mouth reconstruction is distinguished from other cosmetic and restorative dental procedures because we are rebuilding or restoring most, if not all, of the teeth in the upper and lower jaws. This type of treatment combines a variety of cosmetic and restorative dentistry measures. For example, if you have decayed, discolored, and missing teeth, we may use dental implants, crowns and bridges, and veneers to correct all those issues. Full-mouth reconstructions may also utilize cosmetic bonding and dentures and partials.
The important thing to remember is that no smile is too far gone. Our dentist in Dallas will not only work to repair your smile but also improve your aesthetics. As a result, you can expect your new appearance to drastically improve your mental health, giving you the confidence needed to smile freely around others.
The Full-Mouth Reconstruction Process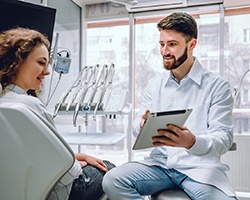 Before we begin full-mouth reconstruction, we always make sure your oral health is in good enough condition to provide the necessary processes. You may need gum disease therapy or root canals before we perform the corrective procedures for your smile rehabilitation. This decision will be made during your initial consultation, which you will schedule to begin the process.
Once it is determined that you are eligible to move forward with full-mouth reconstruction, we will create a personalized treatment plan that includes the designated services we plan to provide to improve and restore your smile, some of which might include:
If you are wondering whether you are eligible to undergo full mouth reconstruction, the first step is to schedule a consultation with Dr. Stapleton. It is during this visit that he will examine your mouth to determine the problem areas. After discussing your smile goals, he will take your vision and create a customized treatment plan that will be designed to match what you want for your smile.
Some of the most common procedures that may be included in your treatment plan include:
Porcelain veneers
Dental implants
Dental bridges
Cosmetic bonding
Full/Partial dentures
Teeth whitening
Metal-free dental crowns
And more!
Understanding the Cost of a Full-Mouth Reconstruction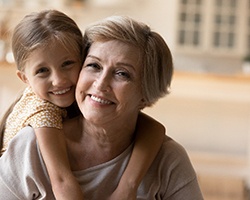 Only until we can fully examine your smile will we know for sure how much you can expect to spend on your full-mouth reconstruction. No two patients present the same case, which is why a personalized treatment plan is necessary to determine how best to address your particular problems. Because we use a combination of cosmetic and restorative services, our team will work to help you maximize your dental insurance benefits to avoid high out-of-pocket costs. We want to help you achieve a more affordable solution, which is why we also offer a membership savings plan and work closely with CareCredit to provide flexible financing.
At Distinctive Dentistry, we're committed to offering comprehensive care through full-mouth reconstruction. Call us today to reserve your special consultation visit. We proudly offer full-mouth reconstruction to patients from Dallas, Hiram, Douglasville, Rockmart, Powder Springs, Acworth, Villa Rica, Temple, Marietta, Kennesaw, and all surrounding areas.