Full-Mouth Reconstruction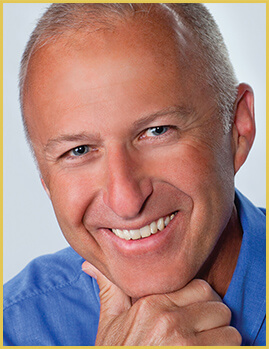 Actual Patient
We want your smile to be distinctively gorgeous! With our full-mouth reconstruction services, we can fix an array of dental problems. In fact, if several of your teeth are injured, misshapen, darkened, or missing, a full-mouth reconstruction will give you a whole new reason to smile!
A full-mouth reconstruction is distinguished from other cosmetic and restorative dental procedures because we are rebuilding or restoring most, if not all, of the teeth in the upper and lower jaws. A full-mouth reconstruction combines a variety of cosmetic and restorative dentistry measures. For example, if you have decayed, discolored and missing teeth, we may use dental implants, crowns and bridges, and veneers to correct all those issues. Full-mouth reconstructions may also utilize cosmetic bonding and dentures and partials.
Before we begin full-mouth reconstruction, we always make sure your oral health is in good enough condition to provide the necessary processes. You may need gum disease therapy or root canals before we do the corrective procedures for your smile rehabilitation.
At Distinctive Dentistry, we're committed to offering comprehensive care through full-mouth reconstruction. Call us today to reserve your special consultation visit. We proudly offer full-mouth reconstruction to patients from Dallas, Hiram, Douglasville, Rockmart, Powder Springs, Acworth, Villa Rica, Temple, Marietta, Kennesaw, and all surrounding areas.