How Dental Implants Work – Dallas, GA
Your Journey Towards a Complete Smile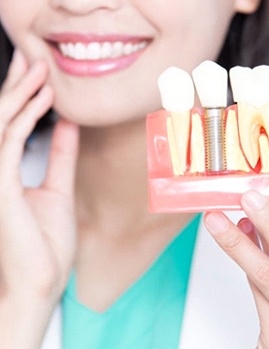 Unlike traditional tooth replacement options such as dentures or fixed bridges, dental implants in Dallas require a unique, multistep process to rebuild your smile. During your initial consultation, we'll go over the entire treatment plan step by step, including a personalized timeline and pricing estimate. While every patient's tooth replacement procedure differs slightly to meet their unique needs, you can find some of the basics of how dental implants work below. When you're ready to start your journey towards a complete smile, give us a call to schedule your tooth replacement consultation!
Initial Dental Implant Consultation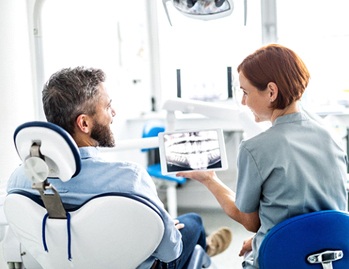 Your first step towards permanently replacing your missing teeth is to meet with your Dallas dentist for a consultation. During this initial visit, we'll review your smile goals, go over your medical history, and examine your mouth. Oral health issues like tooth decay, gum disease, nightly teeth grinding, and low jawbone density can negatively influence the success of your dental implant, so we'll create a plan to address these problems first. Once your oral health is on track, we can move on to the next step of the dental implant process.
Dental Implant Surgery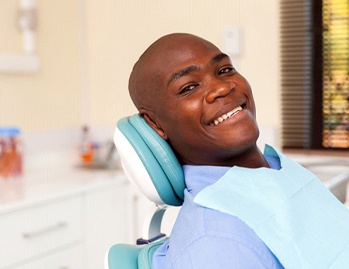 Next comes the surgical placement of your dental implant. First, an incision is made in the gum tissue. Then, a small titanium post is implanted directly into your jawbone. The number of posts you'll need will depend on how many and what type of dental implant you're getting. For instance, you'll only need a single post to replace a single tooth with a dental crown, while you may need two, four, or more to secure a dental bridge or denture. However, the restoration isn't placed during this surgery. Instead, a protective gap is placed over the post and the healing process will begin.
Dental Implant Osseointegration & Abutment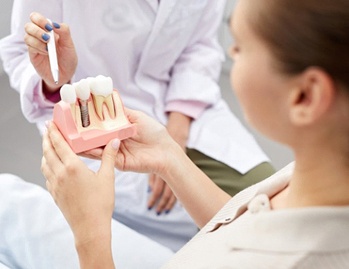 Over the next several months after your surgery, the implant post will fuse with the surrounding bone and gum tissue. This process is called osseointegration. While it can take anywhere from three to six months to complete, the results offer unmatched stability, longevity, and function for your dental implant. Once your mouth has fully healed, a small connector piece called an abutment will be attached to the top of the post. As your gum tissue recovers from this step, we'll design your custom-made dental crown, bridge, or denture.
Placement of Dental Implant Restorations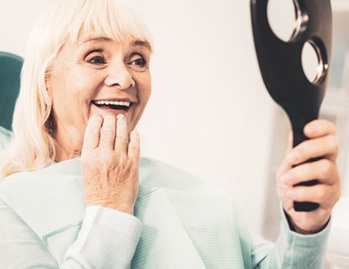 When we receive your final restoration, you'll return to our office for the final step in your dental implant treatment. We'll connect your dental crown, bridge, or denture to the implant post using the abutment. After making any small adjustments and checking to ensure your bite feels comfortable, you'll be ready to start enjoying your newly rebuilt smile!
While getting dental implants may require a very different process than traditional tooth replacement options, the results are well worth the time and effort. With the proper care, you can easily expect your dental implant to stay beautiful and functional for a lifetime.