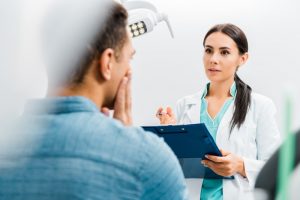 Although bi-yearly visits are often looked at as just a dental exam and professional cleaning, they play an important role in the detection of non-dental issues, like oral cancer. In addition to being the 8th most common type of cancer among men, the Oral Cancer Foundation estimates that roughly 53,000 will be diagnosed with it in 2020 alone. While there are over 9,750 deaths per year, it is important to note that the survival rate is 84%. However, early detection plays a crucial role, which is why your dentist in Dallas is sharing the importance of undergoing an oral cancer screening.
What Is an Oral Cancer Screening?
One crucial component of your routine dental visit is the examination. While your dentist generally uses this time to look for cracks, tooth decay, and other dental damage, they can also check for abnormal symptoms that could be linked to oral cancer. During an oral cancer screening, your dentist will check for:
A lump that does not go away.
A non-healing, discolored sore.
Swollen lymph nodes.
Thickened area of the mouth.
Oral pain.
From there, they may recommend additional tests to ensure that patients receive a proper diagnosis quickly so treatment can begin as soon as possible.
6 Risk-Factors of Oral Cancer
Despite decades of research, experts are still studying the causes of oral cancer. While people of any age, gender, or ethnicity can be diagnosed, there are certain habits and conditions that can make you more vulnerable to getting oral cancer. These risk factors include:
Poor oral hygiene.
A diet that is low in vegetables and fruits.
People over the age of 35.
Use of tobacco products.
Sun exposure.
Alcohol abuse.
How Often Should You Get an Oral Cancer Screening?
According to the American Cancer Society, adults between 20 and 40 years of age should undergo an oral cancer screening every three years. However, if you are over 40 years of age or are considered high-risk of getting oral cancer, then you should have one done annually. While this may seem frequent, a screening from your dentist can play a crucial role in early detection and treatment.
Although the oral cancer fatality rate has been declining over the past 30 years, it is more important now than ever to continue to be vigilant in prevention. Therefore, make sure to talk to your dentist about undergoing an oral cancer screening at your next appointment!
About the Practice
At Distinctive Dentistry, each member of their staff is united by their passion for dentistry and mission to provide exemplary service. Whether you need general, restorative, or cosmetic dentistry, Dr. Bobby Shirley, Dr. Clay Cannon, Dr. Jack Bickford, and the entire team are ready to help you and your family. If you would like to schedule oral cancer screenings in Dallas, please visit their website or give them a call at 770-445-6606.