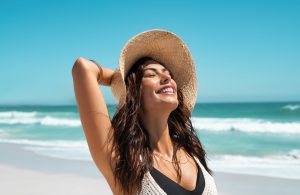 Summer has finally arrived! It's the time of year that many of us have been waiting for. The weather is warm, the kids are out of school, and you may even have a few fun activities planned. As you're soaking in the sun's rays and enjoying more family time, you shouldn't forget about the health of your teeth. This season could be the ideal time to reevaluate your oral care. Your dentist in Dallas, GA shares some tips to help you maintain your smile.
Keep Up with Your Oral Hygiene Routine
Sticking to a regular dental hygiene routine is the best thing you can do to prevent issues like tooth decay and gum disease. In addition to brushing twice and flossing once daily, you should ensure that you're regularly seeing your dentist twice a year. By getting into this habit, you're doing a lot to keep your smile healthy.
Don't Use Your Teeth as Tools
Your teeth are made for chewing your food. They aren't meant for ripping through packaging, opening bottles, or biting your fingernails so don't use them as such! Even though it may seem like the easiest way to get something done, it often leads to chipped, cracked, and broken teeth.
Use a Custom-Fit Mouth Guard
If you're trying to stay active this summer, that's great! Exercise is good for your whole body and can be tons of fun! When playing contact sports like football, basketball, or volleyball, it's always a good idea to wear a mouthguard to keep your teeth protected. Your dentist can give you a custom one that is made just for you. They are much more effective at keeping your smile safe than the ones available over the counter.
Watch What You Eat
Now that the weather is warm, you may find yourself reaching for a sugary treat. Whether you prefer a can of soda or an ice cream cone, it's important to remember the damage they can do to your teeth. You don't need to eliminate them from your diet completely, but they should definitely be left for occasions. Try to keep healthy snacks available instead, like apples and yogurt.
Stay Hydrated
Nearly your entire body relies on water to function optimally. This includes your smile. Water neutralizes acids that eat away at your enamel, washes away food that is left around your teeth, often contains fluoride, and prevents dry mouth.
While you're having family fun this summer, spare some time for your dental hygiene. It won't take away from a good time and your teeth will thank you!
About the Author
Dr. Bobby Shirley is a general dentist practicing at Distinctive Dentistry. He earned his Doctor of Dental Medicine at the University of Louisville School of Dentistry and has spent the last 15 years serving the Dallas, GA area. He's an active member of numerous professional organizations including the Georgia Dental Association, the American Dental Association, and the Academy of General Dentistry. For more information or to schedule an appointment, visit his website or call (770) 445-6606.