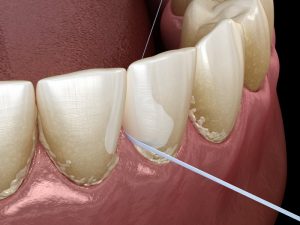 The U.S. Department of Health and Human Services reconfirmed that flossing is an important dental hygiene practice in a statement released in 2016. Although it may seem like a hassle, it's an effective way to remove food debris and plaque trapped between your teeth to prevent cavities and gum disease. When paired with preventive care from your dentist in Dallas, GA, you can ensure that your teeth and gums stay healthy and happy. Read on for four reasons you should floss every day.
4 Reasons Not to Skip Flossing
Flossing daily is an important part of your hygiene routine. When you regularly forget or skip doing this, it can increase your risk of countless issues.
Keep Plaque From Hardening Into Tartar
Plaque builds up between your teeth, and when it's not removed for a few days at a time, it hardens into tartar. When you eat, food particles will combine with bacteria and saliva to form plaque that covers your teeth. If it's left undisturbed for 48 hours, it hardens and gets stuck to your teeth, causing oral health problems like cavities and gum disease.
Stop Bleeding Gums
Do you avoid flossing because it makes your gums bleed and it feels uncomfortable? Although it sounds like you'd do the opposite, continuing to floss will actually keep this from happening. When you regularly remove bacteria from between your teeth, your body will no longer need to send blood cells to that area of your mouth to ward off infections because there's no longer a threat.
Ensure Your Overall Health
Clinical studies have connected gum disease, caused by an accumulation of harmful bacteria and tartar in your mouth, to a variety of medical conditions such as heart disease, stroke, and respiratory infections. By keeping your teeth and gums healthy and bacteria-free, you'll be able to reduce your risk of developing several health problems that can impact other areas of your body besides your mouth.
Keep Your Teeth Healthy
The most obvious benefit of routine flossing is that you'll be able to reduce your risk of common oral health problems that damage your teeth. Food debris and harmful bacteria can easily become trapped between your teeth and cause decay. But with regular removal of these substances, you won't have to worry about that.
If Flossing Is Hard For You, Try These Neat Dental Gadgets
If you have a difficult time maneuvering regular string dental floss around your mouth, there are a couple alternative tools that can make flossing easier. You can try using flossing picks of water flossers, which don't involve wrapping any string around your fingers. For some people, these instruments are a great way to make their daily flossing routine more efficient and effective.
Although it may be tempting to skip out on flossing your teeth some days, it's an important part of your dental hygiene routine. If you're having trouble flossing, be sure to ask your dentist in Dallas, GA for product recommendations or helpful tips and tricks to make it easier and more enjoyable.
About the Practice
At Distinctive Dentistry, we have three experienced and friendly dentists that are passionate about providing patients with high-quality preventive care. With routine checkups and cleanings, our dentists strive to spot and take care of small oral health problems before they have an opportunity to get worse. We enjoy treating patients of all ages and giving them the knowledge and tools they need to maintain healthy teeth and gums. For questions or to schedule a checkup and cleaning, visit our website or call 770-445-6606.