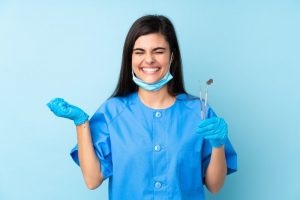 Dental assistants are the backbone of dental practices everywhere. They provide patients with attentive care, resources to improve their oral health, and countless other helpful services that make each of appointment a special one. March 8th until March 13th is Dental Assistant Appreciation Week, which means there's no better time to let them know how much you appreciate them! Read on for four reasons why to appreciate your dental assistants at your local practice.
They Prepare & Takedown Treatment Rooms
Dental assistants do so much behind the scenes, including preparing each of the treatment areas for your arrival. Since the emergence of COVID-19, this process has become even more laborious, because they do everything within their power to keep each patient safe and healthy.
Helping You Feel Comfortable & Cared For
Dental assistants are often the first faces that you'll see when you enter your dental practice, which means that they're the ones that are easing your anxiety and helping you feel comfortable in the treatment chair. They're also there to answer any questions or concerns you may have, so you have all of the information you need to feel confident in your oral decisions.
Helping Manage the Office
The treatment room isn't the only place you can find dental assistants. They also help manage the front of the office by answering the phones, managing the daily schedule of appointments, submitting insurance claims, and breaking down costs and financing options with you. By guiding you through complicated dental insurance coverage and other concerns you have, they can help put your worries to rest and save you money.
Providing You with Great Ways to Take Care of Your Smile
Dental assistants have completed months of training that allows them to provide you with sound oral health and hygiene advice so you can keep your smile on the right track. Whether you need toothpaste recommendations or want to find out whether a water flosser is more effective than regular dental floss, they'll be able to help!
How Can You Show Them You Care?
Your local dental assistants contribute so much to your wellbeing, which is why it's a great idea to show them how much you appreciate their care during Dental Assistant Appreciation Week. Here are a few gift ideas to show your gratitude:
Cooking class pass
An audio book subscription
Cater a special lunch on the day of your appointment
A Starbucks or local coffee shop gift card
A Visa gift card
A gift card to a local restaurant or shop
Your show of appreciation could make their day and let them know that their efforts don't go unnoticed!
About the Author
Dr. Bobby Shirley appreciates his team immensely and realizes that providing high-quality and trusted care couldn't be achieved without their compassion and dedication to their patients. From providing basic checkups and cleanings to advanced dental implant treatments, his dental assistants and staff are there for him throughout every step of the way to help patients feel comfortable and confident in their care. Show your appreciation to our team by scheduling your next visit! Call 770-445-6606 or visit Distinctive Dentistry's website today.