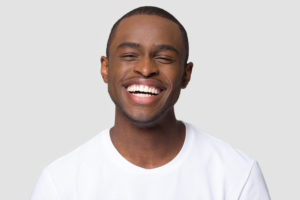 Thanks to advancements in cosmetic dentistry techniques and technologies, it's never been easier to get the beautiful smile you've always wanted. When you're proud of how good your teeth look, you'll naturally start to smile more. Not only does this have a positive influence on your mood and social perception, but it's good for your physical wellbeing too! Here are five health benefits of smiling you can enjoy after your cosmetic procedure.
1.) Natural Painkiller
Researchers have discovered that the very act of smiling triggers the release of several feel-good chemicals in your brain. Some of these compounds include serotonin and endorphins, which are natural pain relievers. They help increase a person's pain threshold, essentially helping them ignore discomfort.
2.) Relieve Stress
Smiling and laughing both activate then relieve your natural stress response. Recently, an article in the Wall Street Journal referenced a small study that found smiling encourages a faster physiological recovery from stress. In it, participants who smiled after performing a stressful task experienced a faster reduction in heart rate afterwards than those who didn't.
3.) Lower Your Blood Pressure
According to an article published by The College of Family Physicians, laughter and smiling significantly influence heart health. Laughing causes an immediate increase in heart rate and oxygen consumption. This is quickly followed by a period of muscle relaxation and decreased heart rate. A reduced heart rate is indicative of lower blood pressure, which in turn puts less stress on the heart.
4.) Boost Your Immune System
Improving your resistance to illness could be as easy as smiling! The Loma Linda University School of Medicine's Department of Clinical Immunology found that laughing can increase a person's number of white blood cells and infection-fighting antibodies. Additionally, it's easier for your immune system to fight off germs and illnesses when your body is relaxed.
5.) Live Longer
In conjunction with all these benefits, or perhaps because of them, numerous studies report that smiling can help you live longer. While numerous studies have looked into the matter, one from Wayne State University, Michigan is often pointed to. In it, two researchers studied 230 pictures of major baseball players from 1952. While controlling for other factors, they found that those with the biggest smiles lived several years longer on average than their straight-faced peers.
Smile Your Way to a Healthier Life
Smiling may not be the best medicine, but it can certainly help you get well faster and live a healthier life. Unfortunately, you may be missing out on these benefits if you're embarrassed by the appearance of your teeth. If you're hiding your smile because of chips, cracks, stains, gaps, or any other imperfections, your Dallas, GA cosmetic dentist is here to help. With treatments like teeth whitening, cosmetic bonding, and porcelain veneers, they can help you achieve a set of pearly whites you'll be excited to show off.
About the Practice
The talented team of Distinctive Dentistry is passionate about helping smiles of all ages in Dallas, GA stay happy, healthy, and beautiful for life. With a range of general, restorative, and cosmetic dental services, they can help you overcome nearly any oral health issue that stands between you and your ideal smile. They utilize high quality materials and state-of-the-art technology for beautiful, lifelike, and long-lasting results. If you'd like to improve your smile, they can be contacted via their website or at (770) 445-6606.