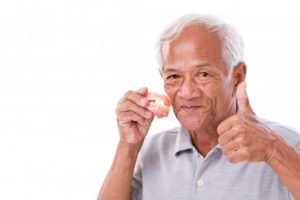 If you've recently replaced your missing teeth with full or partial dentures, congratulations! This quick and cost-effective way to regain a full set of pearly whites uses high quality materials to last longer than ever before. While they're not designed to be a permanent tooth replacement solution like dental implants, they can last a decade or more with the proper care. When caring for dentures in Dallas, GA, keep these eight easy tips in mind to make the most out of them!
Tip #1: Handle Your Dentures with Care
Even as you become more used to removing and inserting your new dentures, it's important to always remember to handle them with care. Taking your dentures out, putting them in, or cleaning them haphazardly increases your risk of dropping and damaging them on a hard countertop or tile floor.
Tip #2: Rinse Your Dentures Off After Eating
After eating with your dentures, lingering food debris will begin to attract bacteria. Eventually, this will discolor your dentures and increase your risk of issues like gum disease and oral infections. To keep your new smile clean and healthy, simply rinse your dentures off after eating with them.
Tip #3: Brush Your Dentures & Mouth Every Day
You should clean the plaque and oral bacteria off your dentures with specialized denture products at least twice a day. While you're doing so, don't forget to clean the rest of your mouth! Even if you don't have any natural teeth left, it's essential to brush your tongue, gums, and inside of your cheeks to prevent infection.
Tip #4: Clean Your Dentures Correctly
If you clean your dentures with the wrong products, you may end up causing more harm than good. Items like whitening toothpastes, stiff-bristled toothbrushes, bleaching products, and hot water can weaken and damage your dentures. Instead, always use specialized brushes and cleaners designed for dentures.
Tip #5: Always Store Your Dentures Properly
While your dentures are made of high-quality, durable materials, they can still warp out of shape if allowed to dry out or are placed in hot water. Whenever you're not wearing your dentures, you should store them in a glass or container of clean, room temperature water.
Tip #6: Soak Your Dentures Every Night
Soaking your dentures is the best way to clean out all the tiny nooks and crannies that can potentially harbor bacteria. Additionally, removing them nightly maintains healthy, comfortable gum tissue.
Tip #7: Get Regular Dental Checkups Twice a Year
Seeing your dentist twice a year is essential for maintaining great oral health. Not only will your dentures get professionally cleaned, but your dentist will be able to spot and stop issues as early as possible.
Tip #8: Tell Your Dentist If Your Dentures Are Uncomfortable
As your mouth naturally changes shape over time, your dentures will inevitably lose their close fit. Wearing ill-fitting dentures can cause gum sores, jawbone pain, and other problems, so you should tell your dentist right away if your new smile doesn't seem to feel as comfortable as it should.
How you care for your dentures heavily influences how long they'll last. Use these easy but effective tips to keep your new smile healthy, comfortable, and beautiful for many years to come!
About the Practice
At Distinctive Dentistry, we encourage all smiles of Dallas, GA to get a dental checkup and cleaning twice a year, no matter how many teeth they have left! Not only do these routine visits give our highly trained team of dentists a chance to check on your oral health and identify developing issues, but they'll be able to ensure your full or partial dentures are in excellent shape as well. To learn more, they can be contacted via their website or at (770) 445-6606.